Actor Amit Sadh, who was on a month-long motorcycle trip, speaks of his experience of the trip, and also doing the best for the places he had visited.
PNS| hyderabad
Actor Amit Sadh recently completed his month-long motorcycle trip around the country, and it's not just about adventure for him. He's also very committed to protecting our natural beauty.
During his journey, he's been to many places like Balasinor, Ahmedabad, Jodhpur, Jaipur, Delhi, Chandigarh, Theog, Sangla, Kaza, Jispa, Purne, Padum, Kargil, and Leh. What's special about his trip is that he's doing his best to keep these places clean and beautiful. He's setting a good example for all travellers.
He stated, "I truly love my country and I'm deeply concerned about the environment. I don't want to see it being harmed. One remarkable stop on my journey happened in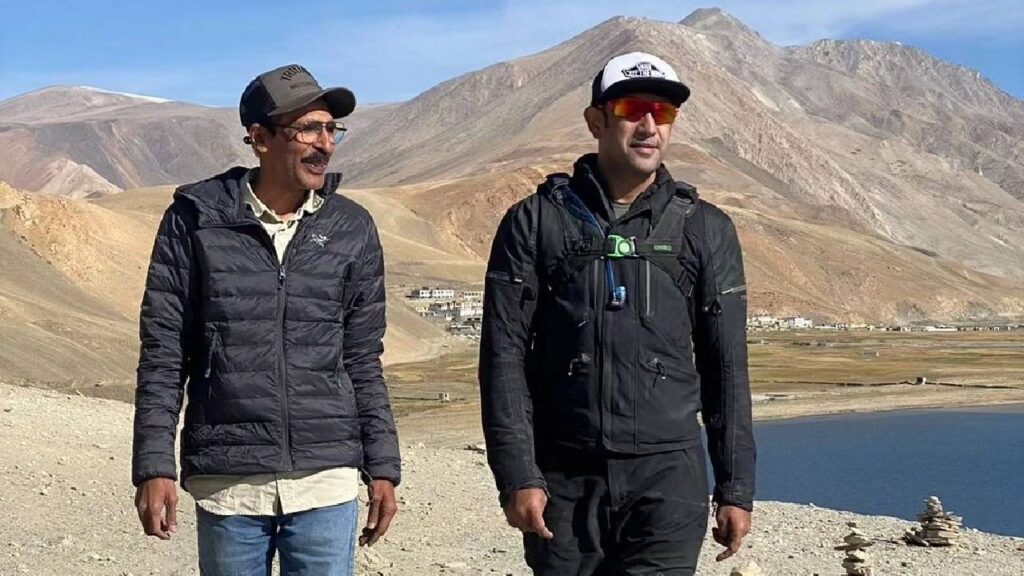 Rakchham, where I took a break but went beyond that. I voluntarily took the initiative to clean up the area, gathering the discarded garbage left behind by tourists. My actions reflect a profound belief that every traveller has a responsibility to preserve the cleanliness of our surroundings and minimize our impact on the environment."
When he geared up for a soul-stirring journey that promises to redefine the meaning of adventure, culture, and personal transformation. Armed with a motto that resonates with the hearts of bikers worldwide, that's when he embarked on a month-long motorcycle journey covering its entire length and breadth.
From Mumbai's Khar to the rugged terrain of Leh Ladakh, he started his exhilarating journey from the bustling neighbourhood: his route took him through a captivating tapestry of diverse landscapes and cultures. Each destination had been carefully chosen to unravel unique aspects of India's cultural richness.
"The motorcycle journey is about more than just traveling a certain distance. It's a celebration of India's vibrant culture, with three compelling reasons driving my wanderlust. As I travelled through the heartlands, I immersed myself in local traditions, taste regional flavours, and connect deeply with the diverse people I meet. From
enjoying a warm cup of chai at a roadside tapri to relishing hearty meals at rustic dhabas, he was determined to experience the authentic essence. At the core of this expedition is my unwavering passion for adventure, love for exploration, and camaraderie shared among fellow riders, embodying the true spirit of a biker."
Motorcycles are more than machines for Amit; they are agents of transformation and personal growth. This extraordinary journey was an opportunity for Amit to share his inspiring story of how biking has influenced his life, offering a testament to its profound positive impact.
Talking about the trip Amit added, "This journey was not just about riding; it was about discovering the soul of India, one mile at a time. I wanted to meet the people of India, connect with them, and embrace the rich culture that defines our nation. From the smallest of interactions to the grandest of landscapes, this ride is about experiencing the essence. And motorcycles, they have been an integral part of my life. They have transformed me as a person, and I cherish every moment I spent on two wheels. Whenever I get time from shooting, you'll find me riding. This journey was a celebration of that connection."
After a captivating encounter with Nawab Sultan Salauddinkhan Babi, the prince of Balasinor, Sadh's journey led him to Ahmedabad where he shared moments of camaraderie.
Talking about his experience Amit said, "Embarking on this journey has been driven by my deep love for people and my desire to connect with their stories and cultures. Ahmedabad, in particular, holds a special place in my heart. It's vibrant atmosphere and, of course, its delectable food, especially the Gujarati thali, has a unique charm. Sharing a meal with members with those who have supported my journey means the world to me. This experience, where we came together over the flavours of Gujarat and conversations about life, will undoubtedly be etched in my memory forever. It's moments like these that make this journey a transformative and soul-enriching adventure."
Amit Sadh's journey of self-discovery and cultural immersion is nothing short of extraordinary. Each location has been meticulously chosen to unravel the intricate tapestry of India's cultural heritage.
On his journey, Amit made sure to interact with his fans on highways, farmers, villagers, truck drivers, and the royal family of Balasinor where he took a halt and dinner with them.
Also participating in another significant event, Amit graced the Outback festival which is India's annual adventure pilgrimage to the highest motorable adventure and music festival for bike enthusiasts. What made the trip more special was that he also cleaned several areas with villagers setting a good example for tourists and locals alike.
Talking about this one, Amit Sadh said, "I believe that life is an incredible journey, much like my month-long bike adventure across India. It's not just about the destinations we reach, but the experiences we gather along the way, the people we meet, and the cultures we embrace. Every twist and turn in the road is an opportunity for personal transformation."
Amit Sadh has two exciting projects lined up — the much-awaited second season of Duranga and a cameo appearance in Sukhee alongside Shilpa Shetty.
In his upcoming movie, Main, he portrays the role of an encounter specialist, demonstrating his versatility and unwavering commitment to his craft!