Ahead of his upcoming film Month of Madhu's release, actor Naveen Chandra speaks to the Hyderabadi media about getting onboard for the project, his character, and more insights about the film.
K. Ramya Sree
Naveen Chandra and Swathi Reddy starrer Month of Madhu is all ready to impress the Telugu audience as it is going to hit the theatres on October 6. Bhanumathi and Ramakrishna helmer Srikanth Nagoti has not only directed, but also penned the story. The film has been produced by Yeswanth Mulukutla. Ahead of the release, the movie is already in good talks among the audience.
Sharing with the media how he came on board for Month of Madhu, the lead actor of the movie, Naveen, who earlier worked with Srikanth on Bhanumathi and Ramakrishna, said, "My previous movie with director Srikanth got me good recognition. We both had plans to do another film together, however, I was held up with other movies and webseries. Later, when we met, Srikanth told me about two stories he was working on and I really loved the story of Month of Madhu. I felt I must do a character like this and without giving it a second thought, I immediately jumped into the project."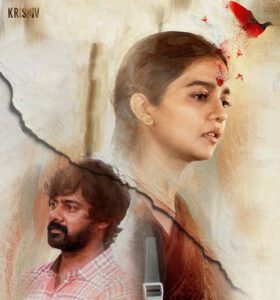 According to Naveen, his character in the movie will be very close to the reality. He said, "My character's name is Madhusudhana Rao. During his school days, his friends looked up to him as a hero. But as time passes, everyone gets busy with their own lives, however, Madhu is still stuck with the same mindset. He gets addicted to drugs and cigarettes. He doesn't want to be a subordinate, and work under anyone. Basically, an irresponsible gut wih no ambition, and hope for money. Since everyone looked at him with a hero image since childhood, he stays in that world itself. The movie is very close to reality."
The Andala Rakshashi actor further adds, "We observe that the people around us try to increase hopes of one person and try to create someone which they are not. We come across such characters in real life who think the same is true and stay in it. Madhu's role in this is also similar. I chose this movie because I liked the story."
Here in this movie, even the leading lady's character is called Madhu. Now, we wonder if Month of Madhu is the story of Madhusudhan or Madhu, the female lead? And the hero responded saying, this is the story of both Madhu and Madhusudhan. "Madhu is an NRI who visits India from the US for a month. Since she grew up there, she is used to the US culture and tries to behave the same even in India. Madhu is given one month, and we bothdevelop ap great friendship and how our friendship changes us is very interesting to watch on screen."
Swathi plays Madhu and Naveen feels Swathi represents all the Telugu women in the movie, "There is depth and pain in Madhu's character. The story is very unique and we are going to show something new to the audience."
Naveen, is presently very busy with back to back projects. He has six movies ready for release in which he plays the protagonist. He also finished eight other movies in which he plays both a villain and character artiste. He also has director Shankar's Game Changer in his kitty.  Seems like Naveen is an actor of substance, and no wonder; he is now one of the busiest actor with over a dozen projects in his hands.