Tejal Sinha
The recently released web series Aakhri Sach (directed by Robbie Grewal) on Disney Plus Hotstar is a brave presentation of an age-old traditional Hindu value system. It explains how a person's belief system causes social psychosis and drives them to a dreadful conclusion. Aakhri Sach investigates a similar real-life situation.
Directed by Robbie Grewal, the web series is produced by Nirvikar Films. The series stars Tamannaah Bhatia in the lead role, along with Abhishek Banerjee, Shivin Narang, Danish Iqbal, Nishu Dikshit, Kriti Vij, and Sanjiv Chopra. The man behind the web series that has been getting all the right accolades, Robbie Grewal, gets candid with The Pioneer about the making of the series. Basically, Delhi da Munda Robbie initially didn't have any interest in filmmaking of any kind. He said, "I just drifted into television at that time.
I wanted to do an MBA, which is basically what it was in my career graph that most parents wanted their kids to get. This was around 1995–96. But I just joined TV at that time, and I just love the environment—more than telling stories and anything else—no hierarchy, a very chill, cool sort of vibe, and that's when I got interested in the media and eventually obviously got interested in telling stories; that's how I got into the initial stages of my life."
Burari case in Delhi in 2018: Eleven members of the Chundawat family were discovered deceased. It was a horrific and startling episode that drew the attention of the national media. While the case has already been dramatised in Crime Patrol, the web series appears more authentic and well-researched. He spilled, "I remember watching it on television; I was very intrigued by it, and so it has always been at the back of my head, and when the opportunity came to make this, I thought it was a great subject for telling in a series that has mystery, intrigue, and a great level of intensity, and the final answer was not really told in as many words even for a common man who knows about the case. And to me, it became a very compelling case for me."
As a filmmaker, just like any other, Robbie too looks to tell a story from his heart and mind, hoping that the audience will see and enjoy it. He has also been one of those who does not look into the numbers and pollutes the mind with the results. At the end of the day, he says any creative mind would crave for his or her work to be appreciated. He said, "Compelling elements attract me to do the story, no matter if it is a romance or a thriller. There needs to be something that propels and something beautiful that needs to be told to the audience."
Going ahead, he feels that for any filmmaker, though they are the ones who think of the story, it is the actors who execute and paint it on the canvas. He continued, "We have the story, but they are the ones who bring it out. For the world to see. If you have a good star cast and good performers, then it's just fantastic. For example, Bringing Tamanna for this part. What is the best decision because she's been a big star and has done various films? I did my research; she hasn't done any projects like this.
It was amazing to bring her on board for a character like this that people are not generally associated with, and she really took it off and did justice to the project. She just goes with the flow, and it's really good. Even Abhishek Banerjee has been a great actor. Even the actors who were cast to play the 11 members of the family had done a great job."
Apart from bringing the show to life, the director had the intent to highlight mental illness, as he shared, "For me, it's a disease like any other disease. I really wanted to touch on that topic as well. People don't like it if it's something that has been told, but when you bring it into the form of a narrative, do give it some thought. I really wanted to bring that element to mind, and this is not taboo. I am for me. It was very important to bring that up in an entertaining manner and not preach about it."
With Aakhri Sach, Robbie's life has come full circle. Wondered how? Let us hear from him: "I began with a film called Samay back in 2003, where Sushmita Sen played the character of a female cop with a very strong personality, yet a certain vulnerability was there, and now for me, life has taken a full circle with Aakhri Sach.
So I really enjoy introducing such a concept because women are much stronger than men in any way. It's lovely when such concepts are portrayed on screen because we mostly cement donning a gun in our hands."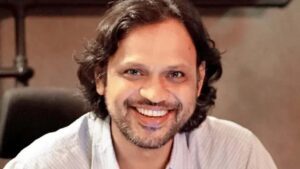 Robbie, who is going to start the shoot of his upcoming Netflix show starring Saif Ali Khan and Jaideep Ahlawat in February and has a busy calendar next year, shares that for him to work on a project, there needs to be honesty in the story, be it of any genre. However, as an audience, mystery and thrillers are what attract the filmmaker.