SHIKHA DUGGAL
Though exploring new places for the first time is a joyful experience, Claudia Ciesla found revisiting New York City and Los Angeles a great one. She still had the mind to explore new horizons after fifteen years of gap. It could be the changing seasons or the activities; we were really interested to know perhaps what different she enjoyed this time.
The Polish-born actress shared, "I did quite a three-city tour. I had already seen all the places in New York some fifteen years ago, but that didn't stop me from feeling the place once again.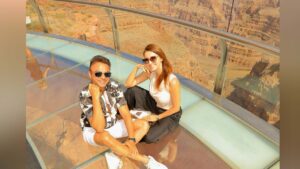 The culture has definitely grown. For example, in The Great Canyon, I was as mesmerised as I was fifteen years ago. I still can't get enough of it. Now I am the kind of person who does 15-20 thousand steps a day because I want to see every corner of the town I am in."
The model also experimented, and Venetian Las Vegas had to offer her a lot of exercises in the form of outdoor gyms and on the beach. "So that beach in LA is inspirational to me, especially as a nutritionist now. They have special cycling tracks! Moving on to New York, it still has that fascinating vibe. You see Mexican; you see European.The city was fully packed early in the morning. People were dancing on the roads!
They have the most Michelin-starred restaurants, and I am a vegetarian. And they had a completely plant-based Michelin-starred restaurant, which is unheard of because they are asked to cook non-vegetarian food! Moreover, they had a ten-course meal. Basically, they had their own garden. I realized there's no need for us to add extraordinary spices to our meal to feel delectable over there." A simple tomato curry was so tasty to her!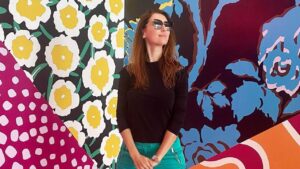 Then she went to the Broadway show too. She could draw some comparisons because she has seen plays back in India too; the only difference she could spot was that Indian plays do not experiment too much. Besides, "as an avid traveller, I can tell you, vegetarians do not struggle anymore. Restaurants are growing stronger for vegetarian meals.
The restaurateurs told me they'll have to shut down if there are no options for us because people are adopting healthy eating once again. I didn't have to think twice; 'Oh, what will I eat?' It was a headache to go to Europe earlier because of the lack of vegetarian options; it's no longer the same."
She goes to Goa very often, but this year Kashmir was calling her. She landed in Kashmir, and Claudia couldn't contain her excitement. "It's nothing less than Switzerland. We were lucky to experience snowfall. And even the Tulip Garden was blossoming. I felt like Cinderella in that garden. My next trip will be to Kerala."
Sharing a little about the hotel hues, the famous Bigg Boss contestant recalled, "I was staying in Beverly Hills in LA. It's a celebrity spot. And when we decided to stay in Vietnam in Las Vegas: we had a gandola ride over there in that little river and within the property. It really felt like Venice! There are things to do, like shopping; there are florists by the river; and there is a food court. A swimming pool is a must wherever I am staying; I like to take my morning dip! Times Square has a Hard Rock cafe with residences, so when I was in New York, I stayed there. Old concerts with a live band."