Starting from a scratch as an untrained singer at school functions, learning the ropes in classical music from Hyderabad sisters, veering towards Indian idol and then becoming a pan-India sensation, the journey of playback singer and lately actor Sreeramachandra Mynampati has been an inspiration, particularly to those who have been following him since he was crowned the winner of Indian Idol 5 (Hindi). His versatility and love for improvisation have enraptured countless hearts.
His is amongst those voices that have become chartbusters in Bollywood for a few biggies including Balma (Khiladi 786), Allah Duhai Hai (Race 3), and Ramaiya Vastavaiya (Jawan), to name a few. After winning accolades in Bollywood, he chose to build on his identity in Telugu states too. Overcoming much struggle and umpteen challenges, he has made his mark in south as well. Today this pan-Indian artiste, having struck a chord with diverse audience, is having a go at acting too. He gets candid with The Pioneer's Tejal Sinha taking us all the way from his naughty childhood days to his present-day pulsating life.

Notorious kid during intervals of calm
I was not a composed kid for sure. I was very calm, but notorious whenever the situation demanded; and then I used to become calm again. I could quickly shape into someone notorious and then when people came around me I used to shift the blame and remain calm as if I had done nothing. I was a mischievous kid, though in the background and underrated. At the end of the day, I always seemed to be the silent kid.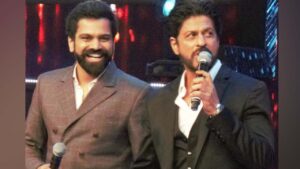 Early ear for music
I could always relate to music and respond a lot to music. My mom says that as a year old kid when I used to cry, she used to switch on the transistor, and I used to immediately stop bawling, arrested by the music from the transistor. Probably my connection to music started when I was that young. As I grew up, I used to take part in cultural activities and came to be known as 'eka santha grihi', grasping things in one go and when you listen to something, you are also re-interpretating it in your own way and in the best way possible.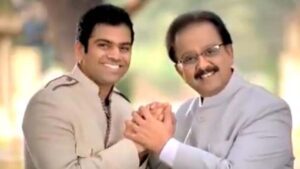 Without any professional music training, I used to sing at school functions when I was 11 or 12, and people used to really love my songs be it rendering of Rafi sahab's songs, Bala Subramanium's songs, Kishore da's songs, or even those of Lata Mangeshkar. Back then I used to sing a lot of Hindi songs, and people used to love it. I could cast a spell with evocative and poignant songs like Vande Maataram, Ae mere watan ke longon, during all those special occasions at school.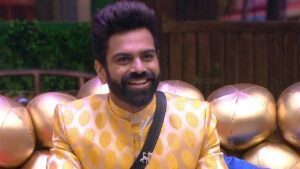 Professional touch that gave wings
My professional music training began when I was 17 or 18 years old during my days in an engineering college. It was then that I started my formal training with Hyderabad Sisters Lalitha ma'am and Haripriya ma'am. That is when I could bind really well with music and then I got opportunities leading up to Indian Idol and thereafter I began singing for different films and that is how my singing career took off.
No support in industry but emotional prop from parents
Even today I share a great bond with my immediate family: my mom, dad, and sister. They have been very supportive. They never forced me not to do or do something, except for getting married, they still force me to do that (we giggle). But when it came to my professional assignments, I always had a way of getting what I wanted. Like I said, I used to be calm but when the situation demanded I used to stand up for myself. I had a strong belief in myself when I wanted to do something, and I used to convince them.
I used to sound very convincing to my parents when I wanted to take up music as a career. They never suppressed me but heard me out patiently. Of course, they had their own worries and often advised me: 'You settle down first, have a backup plan, and all those stuff'. But I fought my way through the difficulties of not having any family support in the industry or in music. Still, I had the emotional support that any child would want from their parents. When I needed them, they were always there for me; they always kept me grounded in my down times and happy times.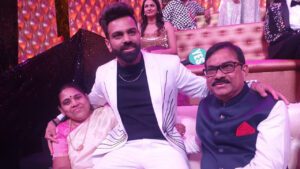 Inspiration from Tom and Jerry
Tom and Jerry was inspired by our story (we laugh out loud). That is how we grew up and we still are the same. We fight a lot but at the end of the day we love each other, and we are always there for each other. We are just a call away. We might be busy in our own lives, but we share an amazing bond. We understand each other. With just a hello we can understand each other. I love my sister; that way she loves me too. No matter how much we fight, we are always there for each other.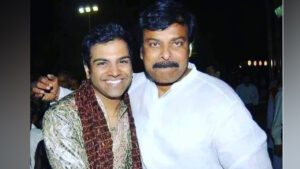 Struggle is part of life even today
As of today, even legendary figures like Amitabh Bachchan, Chiranjeevi garu and Nagarjuna garu have their share of struggles. Struggle is a part of life, no matter what you are doing, it is always going to be a part of life. It is all about starting a race and winning every time you start it. I would say the struggle is still on, but that's the beauty of life: unless and until you struggle for something, you won't get it; and unless you achieve it in this manner, you won't get the essence of it.
They say something you achieve without a struggle does not last long. I totally believe in that. Life has been really amazing; God has been very kind, and opportunities have been really great. Whenever I put in hard work into something, it has paid me off really well; though in some cases, it has paid me a little late, it has nevertheless started paying off.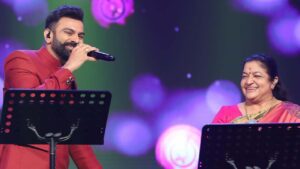 Striving for identity in Telugu states
After Bigg Boss 5, and Baby, now I believe that things have changed.  I was striving in life to get an identity in my own region: the Telugu states. Although I had identity at the national level after Indian Idol, the songs that I have sung for a few of the biggest stars in Hindi be it Balma for Akshay Kumar, Allah Duhai Hai for Salman Khan, and recently Ramaiya Vastavaiya for SRK, Subhan Allah for Ranbir Kapoor, these have been like my biggest hits, but then I somewhere had this identity crisis with regard to Hyderabad.
I was like I do not have a hit song in Telugu being a Telugu boy; so, it always made me very insecure. But then 10 years later, it started happening to me in Bigg Boss, getting me an identity, lot of fan base and Telugu people loving me so much, getting good opportunities in Telugu and making me believe in the life's journey. I am going to still put in a lot of efforts.
Still an Introvert
There is a lot of anxiety and stress I deal with as an introvert. I am still trying to make more friends, but you know after a point, it becomes really difficult to tell, if you put me in a group of people, I just lose myself, I don't know how to behave, talk to them, or initiate a conversation. Surely I find my way out, doing either music practice, my shows, travelling or working out in the gym; it's like meditation for me. That one hour or two is very very important for me. These are a few things I do which are in my control and I can get out, dress well try to maintain myself, and stay confident. That is what helps me.
Indian Idol Hindi shaped my career
Indian Idol 5 (Hindi) definitely helped me shape my career as a singer. Now I am glad that everything is pan-India and like 5-6 years back it was more of state-centric films and moviemaking and songs that were popular. Now whatever music is out, it is heard by everybody. Music and films have become more global now.
No matter which region we belong to, we just belong to the cinema. Earlier it was not like that. Earlier it was like I had a Hindi song or a Telugu hit song, but now it is a hit song no matter what language it is in because when people hear you on different music apps or YouTube. I am glad that everything is on a big platform.
Bigg Boss Telugu was a milestone
Bigg Boss Telugu turned out to be the turning point in my life. Before that, I had never spent too much time in Hyderabad. So, I felt it was my time to take and make efforts to come back into the public in Telugu, whereas I was doing good work anyways in Bollywood. But being a Telugu boy, I wanted to do something for my people as well and since they really loved me I wanted to spend some more time here.
That is what made me go to Bigg Boss and made me the winner of hearts though I was not a winner of the trophy and title. That was main aim: to get into people and see my best with them and try to entertain them in the best way. I was really happy with the response, and it started getting me opportunities in Telugu and people now know me as a personality, singer, anchor, and now as actor. It did make a big difference for me and after that I started singing more in Telugu as well, along with Hindi. Definitely, it was like a milestone I would say.
Hosting Indian Idol Telugu
Life came full circle when, from being the winner of the (Indian idol 5) show in Hindi, I came to host the first-ever Telugu season, and people really loved the way it was done. It built a base and a whole new platform for all the youngsters were coming up and who wanted to become singers. It being on Aha was the icing on the cake. Season 1 was a huge hit with me Thaman garu, Nithya Menen and Karthik garu. It was a whole good concept that started off. I really enjoyed doing it because I could relate it to the audience, judges, and contestants, me being there, done that organically really helped the show.
Worst phase being replaced
There were times when I was given a song, but that was not released after recording, keeping me waiting. Then suddenly I came across the song and there was some other singer's name on it. Be it in Telugu or Hindi, it has happened a multiple times. Every time it happened, it used to take away a piece of me thinking 'why, why, why'. It was very hurtful every time that it happened. Whenever that happens, I feel very down.
Moving on; accepting the good and avoiding the bad
Attaining success as a first generation artiste is always a challenge. I had started off knowing it was not an easy deal, not a cup of tea. Everything you do comes with a lot of good and bad; and so, I learned to accept the good and avoid the bad. Whenever something of that kind happens, I am down, and I feel bad about it. Still, I find ways to get out of it and then wake up with a fresh mind, with a new day, new dawn just forget what has happened.  I have learned how to ignore the bad and get along with the good.
It takes a while to do that because it is very difficult to forget something bad and not coming out of is worse and the most difficult part of life, especially being the only one from your family without any support, being the first generation going forward.
Pan-India artiste with an eye worldwide
I belong to India and my identity is: I am an Indian. Definitely across the world, I would definitely want to do most stuff internationally for people across the world to know me, just like how the Western artistes have appreciated us. I would definitely want to do something international.
Rapid fire:
Pinch me moment: Indian Idol, Hindi hit songs every time I had a hit, it was an adrenaline rush to me; response, and love when I came out of the Bigg Bouse house.
Official first hit according to you in Telugu: O rendu prema meghaalila (Baby)
Describe yourself: Fame, success, money, and hard work
Inspiration throughout: Every successful first generation artiste who achieved and reached great heights with no support, like NT Rama garu, Chiranjeevi, SRK, Amitabh Bachchan, Rajnikanth
Religious or spiritual person: Both
Favourite holiday destination: Home
Favourite cuisine: Of late Asian, but otherwise any country I go to, I love bingeing on what is famous there. I like spicy food
Favourite country to stay in: Absolutely India.