This week for our weekly column of Hyderabond, The Pioneer connects with the city's renowned and few of the first fashion designers Ganesh Nallari, sharing his association with the city, and the fashion scene here.
Tejal Sinha
Hyderabad is home to some of the leading fashion designers, fashion institutes, and fashion events in India. The city has a thriving fashion industry that caters to the needs of a diverse range of consumers. Well, today for our special weekly column, we have with us Hyderabad's one amongst the few fashion designers, who has started it all from scratch and now has been a known face into the fashion world. Also making the city a fashion hub!
A dentist-turned-fashion designer, Ganesh Nallari, has a great understanding and appreciation of environmental consciousness in the fashion industry by following the three pillars of a sustainable business- People, Planet & Profit, that create a positive impact on the environment and society as a whole. Though born and brought up in Hyderabad, at the age of 18-year-old, he left the city to pursue his dental studies for five years in Bangalore. He further continued to work there as a dental lecturer. But looked like a different transition was coming his way. He got back to the 'City of Pearls' to pursue his post-graduation in textile industries from NIFT. Initially, he did have an opportunity to go to NIFT Delhi, but he choose Hyderabad, one of the reasons being to stay with his parents, since he was the only child.
Going ahead, taking us through his journey of starting his own label in the city he shares, "After my two-year programme, I moved back to Bangalore to work in an export house. I later went to Italy and got an opportunity to work in France. There I participated in a competition for the All European Silk Awards for which i was one of the finalists. All the finalists were invited to COMO, in italy, where we had an opportunity to visit the textile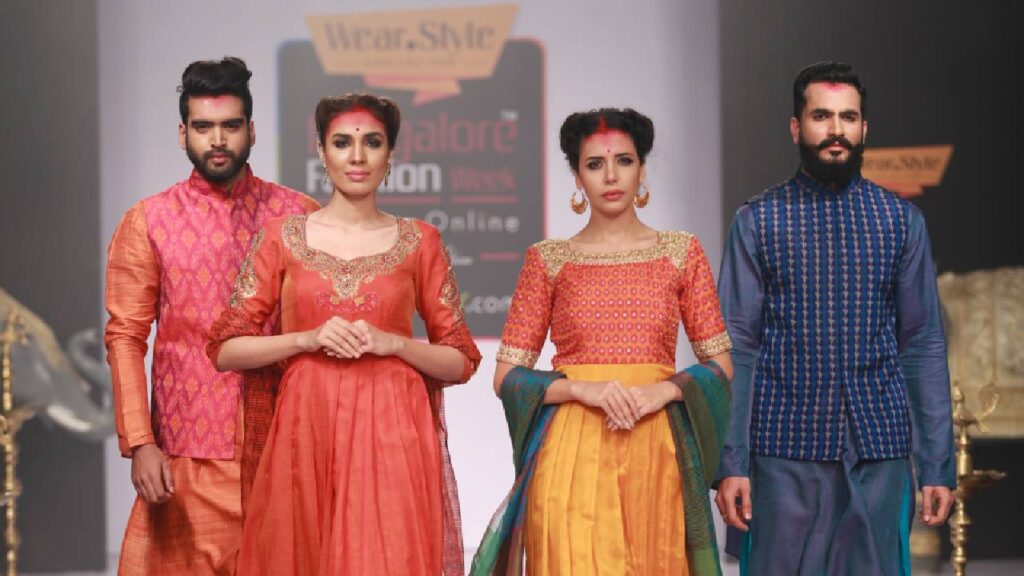 industries, and factories working on these big brands like Louis Vuitton. While the visit, we also had a Q and A session, where I asked if they do anything in Handloom? They were like everything was Powerlooms in those countries. It was then that I realised that a handloom product should have a much value with great craftsmanship, resources, natural fibers be it cotton, Jute that's available in India. All the states in India are so culturally rooted that they have their own special fabric, embroidery, print, Jaipuri block print, Kalamkari, Ikkat, and Poochampali, same craft but so differently done in all the regions. When I think of it, they used the same mechanical technique, and why was our handloom so undervalued."
This realisation not only got him back to India, but also he was very much sure he's going to start something of his own in his city; Hyderabad.
"Back in 2007, the fashion markets were Delhi, Mumbai, and to a certain extent Kolkata. Down South there was nothing and we were only stuck with your traditional silk saree. Primarily it was Delhi due to its resources. When I came back to India I could have stayed in Mumbai but I could only stay there for 1-2 days due to its mad rush. Mumbai has a high spirit, always on the move. But I felt I didn't fit in there. As a creative person, I like my own space. I could have visited places but Mumbai was never a home to me. Everybody questioned me about what I was doing in Hyderabad after I was back from Italy, and if I was planning to move to Delhi or Mumbai. But I was sure I had to be in Hyderabad, since there were no prominent designers except for 2 or 3 of them, and some home studios."
Ganesh wanted to make a fashion market of Hyderabad for itself, and now he has completed over 16 years in the industry. Now when he compares the fashion scenario back then and now, he says, "Hyderabad is almost on par with Delhi. If one would talk about fashion hubs one would say Delhi, Hyderabad and then Bombay. Now all the designers have come to Hyderabad. Every flagship store of any Delhi-based designers or from other cities is there here in Hyderabad. I knew the city has the potential. This has been such a
competitive market. So many designers have come, and many designers have gone also (he laughs out loud). There is competition in every field but it depends on how consistent you are. The best way to run your business is to mind your own business (we laugh)."
During those days, he shares that since social media was not that big, word of mouth was the only effective publicity. In fact, it was only through it that he also had clients from Australia, US, and Singapore, to name a few.
And so, getting back to what he likes about Hyderabad, he says, "I like Hyderabad the way it functions. People here are more relaxed, not that they are not hard-working. Then you have the food, the cultural diversity. Be it anyone from North or South, anybody can live in Hyderabad. Any language anybody can adapt to easily. The beauty of living in a city like Hyderabad is a whole different feeling. I live in Shaikpet where I can see Qutub Shahi Tombs from my balcony and I have my work in Hitech city. If I take down my cycle I can go to Golconda in 15 minutes from my house. I can just go on a Sunday and do a heritage walk, gather inspiration, and create something next week. That's something you'll not find in every city. What sets my city apart from my family is the cultural diversity of different religions and architecture is there here in Hyderabad. There's great weather here, pollution-wise its less, availability of resources in terms of fabrics, rich handlooms, everything is available here be it the fabrics or embroidery. The Telugu-language states, that we are sustainable in our own self for creating our identity. Be it Kalankari or block prints, these are all very important in our creation."
All this for him adds up to making Hyderabad a worth-living. In fact, no matter where he had travelled, to him Hyderabad has been always a 'Home'.
The Nizami state that we've been, he believes has a great sense of style. What is more interesting? He says, "The GenX and Millenials have all travelled and come back. So today it is about updating a tradition. You might be deeply rooted and classical in your style, but at the same time updating your classical style is also essential. For example, you are wearing your mother's saree but how you style it is very different. Now things have all become more minimalistic, more refined and that is what I see a change. People here have travelled enough so their refinement in terms of fashion and taste has also become more refined. More exposure and Travel have made their tastes more refined. So to me, Hyderabad is home and heart."